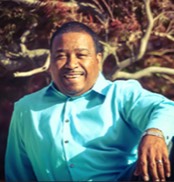 Dennis began playing the electric guitar at the age of 4. By age 5 Dennis performed at the Greensboro Coliseum before thousands of people during a church convention. He also played the guitar at many churches throughout the years. While in middle school Dennis won the NC Talent Contest. Later Dennis gained more talents such as: Bass Guitar, Organ, Keyboard, Piano, Drums, all Percussions and Synthesizer. Dennis began playing for weddings and many social events, as well. While in high school Dennis played Bass Guitar for the Belles and Sons Glee Club. During this time Dennis became a versatile songwriter as well as a Producer/Arranger.
Dennis ha worked as a guitar player with producer Quincy Jones of Q Productions and David Jones, former producer of Motown Records.
Dennis has opened up shows for many gospel groups such as: The Mighty Clouds of Joy, Gospel Keynotes, Billy Paul, John P. Kee, Luther Barnes, Ben Tankard and Darryl Coley. Dennis' first recording was R&B at Mega Sound Studio in Bailey, NC. Later he was involved with Cloudbourne Studio in Detroit, MI. That was the turning point for Dennis.
In the year 1985 he was a guitar play in the movie "Color Purple", in which Oprah Winfrey starred. During this time Dennis also recorded at Secret Sounds Studio in New York. In 1997 Dennis was an extra in the movie "Eddie" which starred Whoopi Goldberg.
Dennis has been on local TV playing music and singing, as well as performing on stage across the USA. In 1998 Dennis recorded his first CD entitled "Sinnerman". The CD sold very well and was a hit on local radio stations.

In 2003 Dennis was the songwriter and producer of the CD "Something for Everybody", performed by Dennis Garner & One Accord. The CD has done very well and is receiving airplay across the USA.

In 2005 his CD entitled "Can't Make it Without You" is dedicated to the memory of his deceased mother. On this CD Dennis is very versatile. He is singing all the lead and vocal background and also playing every instrument throughout the entire CD. 2015 Dennis has a new single entitled "Never Let Go" performed by Dennis, featuring Truman Comer.


Dennis' goal is to win souls to Christ by spreading the word through song.
What Dennis has is very special because his taken come from God.